Massive medieval battles, open sandbox worlds, three expansive campaigns. What story will you tell?- Mount & Blade. Calradia is soaked with the blood of sellswords. Survive, and turn a profit.- Mount & Blade, Warband. Command your own faction and engage in 64 player multiplayer.- Mount & Blade, With Fire and Sword. Firearms have come to Europe. Learn to tame their unholy roar.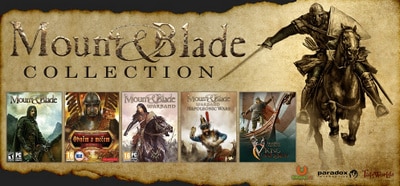 MOUNT & BLADE FULL COLLECTION
---
Includes:
Mount & Blade
Mount & Blade: Warband
Mount & Blade: With Fire & Sword
Mount & Blade: Warband – Napoleonic Wars
Mount & Blade: Warband – Viking Conquest Reforged Edition

Features:
Free-form sandbox gameplay.
Be a merchant, a mercenary, a knight or a lord of the land.
Go anywhere, do anything in a world thriving with hundreds of locations.
Use one of the most intuitive medieval fighting systems ever devised.
Multiplayer battles with up to 64 players.
Multiplayer modes include Deathmatch, Team Deathmatch, Capture the Flag, Conquest, Battle and Siege.
New Multiplayer mode: Captain. Up to 16 players can each command a squad of soldiers.
Enhanced siege mechanics: storm the castle, blow up the wall, bribe an officer or poison the well/food to get past the defenses.